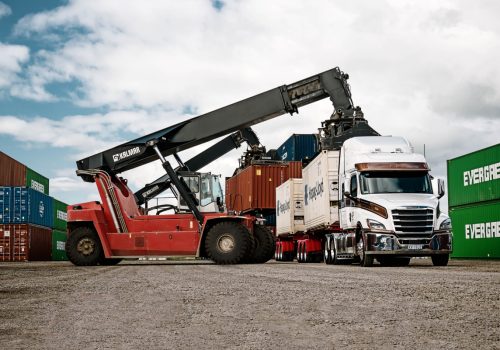 Kreskas Bros is the largest road carrier of shipping containers between the Port of Melbourne and regional Victoria. Since 1968, and over four generations, this family-owned business has built a solid reputation based on honesty, integrity, reliability, quality, dedication and above all, personalised long-term partnerships.
Kreskas Bros made its name delivering produce between Shepparton and Melbourne's wholesale fruit and vegetable market. Today we connect regional Victoria with the rest of the world, with our fleet of vehicles delivering to and from the Melbourne wharf precinct every day.
In addition to our expansive trucking fleet, we have heavy container lifting and loading equipment and can offer end-to-end services for all your container transport requirements. We offer container pack, unpack, container storage for both general and refrigerated units as well as the hire and sale of empty 20-foot and 40-foot containers. Kreskas Bros' AQIS-registered facility offers both ambient and refrigerated LCL storage.
Our team's dedication and experience, coupled with our large and reliable fleet, will ensure your shipments arrive on time and trouble-free. Kreskas Bros are focused on providing exceptional customer service. Through our time and experience we have developed and incorporated systems into our daily procedures to assist in providing our customers with the service and information they need.
Partnership Approach – Kreskas Bros manage contracts through a partnership approach. This ensure that we achieve high quality, timely and successful delivery. Kreskas Bros Transport have the latest containerised freight technology providing peace of mind.
Safety – We set and review our OH&S policies, objectives and targets regularly within a framework of consultation with our employees and other interested parties. We are committed to establishing measurable safety objectives and targets aimed at prevention of work-related injury and illness.
Delivery – During the delivery, Kreskas Bros commits to the highest level of safety for its drivers, clients and the general public. We will adhered to all OH&S site requirements and regulations. Kreskas Bros Transport strives to provide a zero harm workplace for our workers and anyone who may come in contact with our sites and the surrounding environment.
Commitment – We are committed to maintaining our record of zero incidents as we continually promote a culture of safety driven people and projects by taking a strict approach in our methodology of training and development.
Qualified & Trained Operators – When safety and reputation is at stake, Kreskas Bros Transport never take shortcuts. This is apparent by the use of the highest skilled, experienced and qualified Drivers/Operators in Victoria.
Compliance – All containers, inclusive of the supply and delivery will meet all relevant legislative standards, from the quality and condition of the containers to WorkSafe standards. When you choose Kreskas Bros as a partner you have peace of mind with our sound track record of compliance.
"Logistics is a future orientated industry. If you are planning for now, you are already behind. Utilising the latest supply chain technologies, Kreskas Bros Transport is your future"