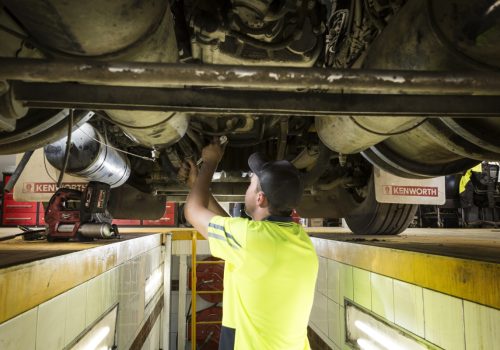 Chain of responsibility
At Kreskas Bros, Safety and compliance is a conversation that we have with team members daily.
While we have built a reputation on safety and compliance, we know that even the most efficient supply chain can quickly come undone without a firm commitment to road compliance at every link in the chain.
This means that every team member at Kreskas bros – whether they work in the yard, in the office, in the workshop, in the warehouse or on the road – must understand the role they play in the Chain of Responsibility (CoR).
Our robust approach to risk management and road compliance is finely tuned across our operations to address our obligations under Heavy Vehicle National Law.
This is supported by an ongoing investment in a modern fleet with state-of-the-art safety features and the latest vehicle technology to detect and deter fatigue on long-haul routes.
Importantly, Kreskas Bros best drivers train new drivers in our leading operational training program to maintain the highest standards of safety and performance.
Accreditations
National Heavy Vehicle Regulator (NHVR) recognises operators with robust safety and road compliance management systems in place.
Kreskas Bros is accredited for:
Mass Management
Maintenance Management
Basic Fatigue Management (BFM)
Kreskas Bros is committed to complying with all legislation, licences and schemes that ensure a safe supply chain.
This is the responsibility of every person with a role to play in the Chain or Responsibility.